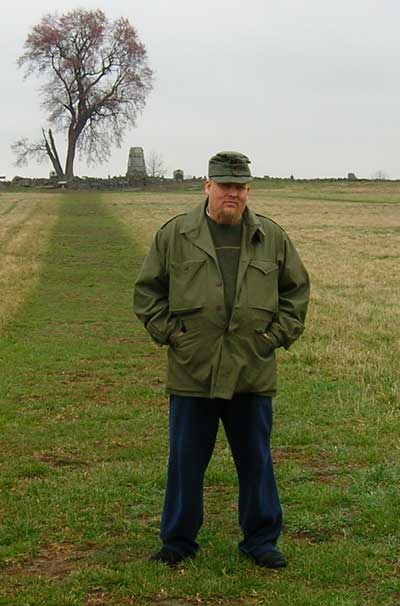 Okay, I actually uploaded my cam to the comp. Here's me last Monday at Gettysburg. Maybe more will follow… I haven't web-fixed any more of them so they're all monstrously huge.
Anyway, this was taken in front of the "Angle" the place where the South got repelled and the North turned the tide of the war. Actually, it's kind of somber — well except when there's a bunch of worthless, out-of-control children screaming around there — their parents not watching or caring AT ALL what their spawn are doing. Kent told me when he was onthe Arizona Memorial there was some family w/ a bunch of their spawn running and screaming there ON THE MEMORIAL… he actually said something to them and they sheepishly suppressed the outrageous behavior of their spawn for a bit.
On Procreation
Ya know, some people should NOT be allowed to procreate. I KNOW if we were to offer them, say $1500. to get "fixed" (we'd explain it differently to them) then many (a lot we hope) would take the deal, thus removing their polluted and foul genes from the pool.
So Cynical I am
My, I sound cynical don't I?! I just worry about our nation when so many get their history from the "Hitler Channel" as it's called by reenactors. (It used to be that all Discovery showed was "Hitler and Bugs" so it was thusly called and the name soon transferred to the History Channel). Oh yes, let's watch the History of Ketchup… ack!
Oh well, I'll stop. Tired, need sleep. Must deal w/ stupid driving public on the 'Morrow.